Healthy pets, happy people, together!

Why work at Bellalago Veterinary Hospital?
Bellalago Veterinary Hospital is an AAHA-Accredited veterinary practice. We follow over 900 additional standards above and beyond what the State requires. This means you get to practice high-quality veterinary medicine - something you can be proud of at the end of the day!
We are an equal opportunity employer and committed to fostering a diverse and inclusive workplace.
Career opportunities can be found here.
If you have any questions, our management team will be more than happy to assist you. Please reach us at [email protected].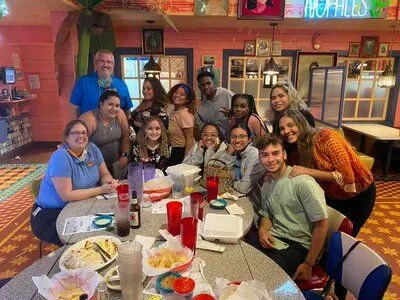 Veterinarian Careers

Our Veterinarians are the cornerstone of our organization. Whether you are an experienced doctor, fresh out of school, or looking for an internship, our goal is to support you in delivering great patient care, client service, and community relations.
Being AAHA-Accredited means that you know you'll be able to come in and practice your craft with the freedom you need to ensure you're doing what's right for your patient!
Career opportunities can be found here.
Technician and Assistant Careers

Our Veterinarians could not do their jobs without their teams of Veterinary Technicians and Assistants. We believe that the skills possessed by these key team members are critical for ensuring every patient gets the best care. We also work with our Technicians and Assistants to ensure that they grow as professionals and remain at the forefront of veterinary medicine.
Career opportunities can be found here.
Client Services and Support Staff Careers

Our support staff is made up of multi-skilled individuals all contributing to medical care as well as positive customer relationships. From Client Service Representatives to Kennelers to Wellness Team members, our hospital could not run without the care and attention of our support staff.

Career opportunities can be found here.
Hospital Administration Careers
Behind every team are those responsible for overseeing the daily operations. This involves everything from safety to human resources to inventory management.
Career opportunities can be found here.

Internships & Volunteers
We want to make sure we help and shape the future of our industry! This means that we work with many different universities, colleges, and other programs in order to place students needing internships and externships. If your program doesn't currently partner with us, we'd be excited to start building that relationship! Students interested in working with our team should follow the instructions from their program or reach out to [email protected] for more information.
Volunteers are also welcomed! We host these volunteers as interns so they can gain first-hand experience and job knowledge about the profession. Our Program was developed in conjunction with a licensed educator in order to meet the needs of tomorrow's veterinary team members. Interns should apply through the Internship Program application below.
Internship Program - Description
Internship Program - Recommendation Form
Our Core Values
Compassion
Wellness
Integrity
Community
Quality
Education
Communication
Benefits of working at Bellalago Veterinary Hospital
Practice AAHA-Accredited Medicine - Be an advocate for the pet!
Competitive compensation packages
Generous continuing education budget
Discount program for your pets
Free or significantly reduced cost products, preventatives, and diets for your pets
Professional advancement focused on human development
Bonusly - Coworker recognition & bonus program
Flexible scheduling with rotating weekends off
Sundays are always off
No on-call ER hours
Paid Time Off - up to three weeks per year!
Healthcare program
Simple IRA Retirement Plan with up to 3% matching
Paid holidays
Team-managed Angel Fund to help ensure every pet gets the care they need
Team events, dinner, activities
Community outreach and support - Patient wellness begins at home in our community!
Ready to join the team?